As we all know, the seventh month of the lunar calendar month, is China 's folk tales of "the gigolo knit"meet the day of the Milky Way. That day is also called Chinese Valentine's Day. To make Valentine's Day gifts look instantly tall, as long as the world's top designer works, luxury goods, technology products, packaging ... from them to sum up some characteristics to imitate. There are three key words: minimalism, contrast, and grayscale.
The following Luxury Gift Box is our hot sales valentines's Gift Box. We have added preserved fresh flower, teddy bear and necklace into the box. These three things are always girls' favorites. Besides, we have pre-pared one light-pink color Paper Shopping Bag for packaging. If you still think this is not so romantic and sweety, then we can add ribbon and wrapping paper. However, how to choose wrapping paper and ribbon ? Here comes several advice from myside.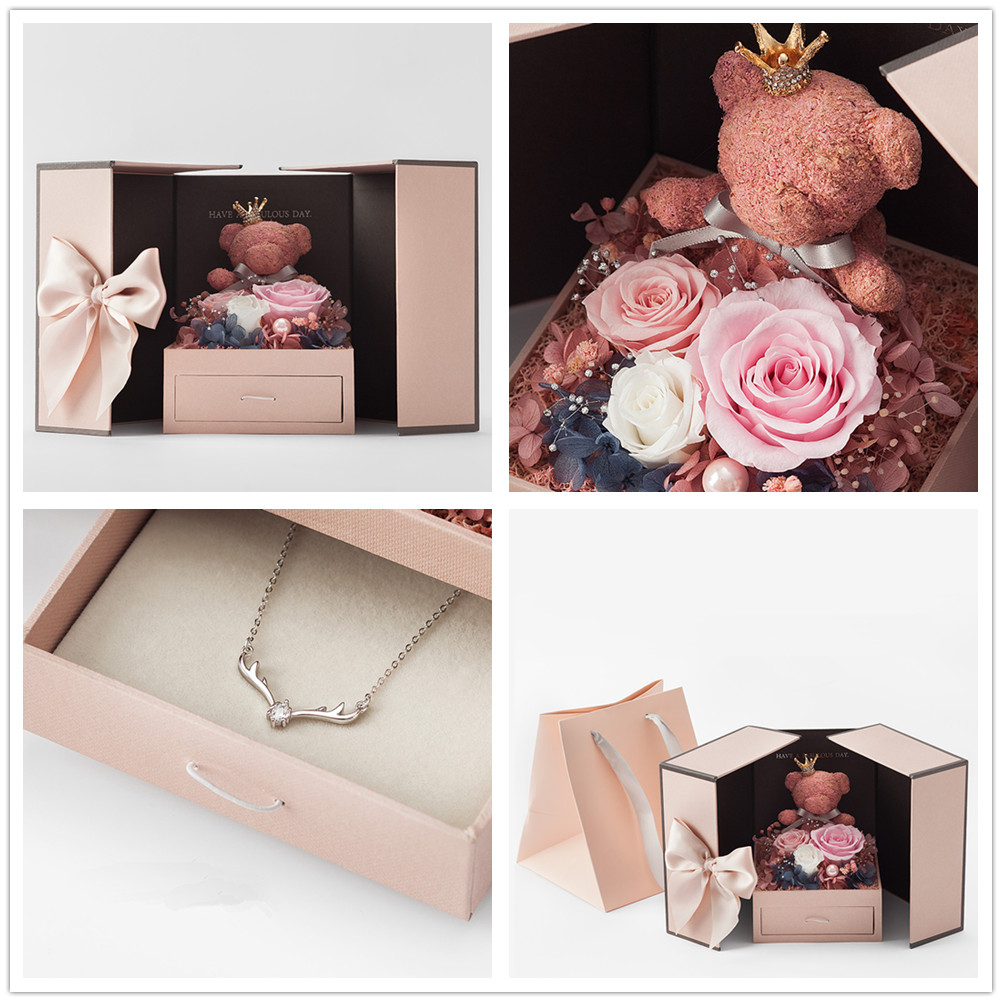 1) Solid color wrapping paper + Pure color ribbon is best in cool and neutral colors (black, white, rice, coffee, blue, green, purple, note that the color saturation should not be too high)

Is it Tiffany's feel! On this basis, you can insert a small card or a dried flower in the knotted place (even if the ribbon flower or plastic flower is used). Note that the card and the dried flower are only decorative, the smaller one is better, and do not take over the main one.

This is the simplest and foolproof, and all hand-remnant stars, small fresh-improvement obstacle stars, and taste are always given by Tucao Xingren. This is enough.

2) Solid color wrapping paper + color ribbon
The so-called color ribbons do not allow you to choose flowers, but work hard on the texture and texture of the ribbons. You can choose from a variety of ribbons of different materials mix and match, you can also choose to have dark lines, velvet, embroidery, hot stamping (embroidered and perm if custom made it more forced grid bracket laughter) ... principle remains Is based on cool colors or neutral colors.

3) Solid color wrapping paper + color wrapping paper
With the special texture and texture of the packaging paper to replace the ribbon as a feminine thing as a decoration, simple and capable, handsome, very suitable for packaging gifts for boys. It can be very good to do well, but it requires a strong ability to match colors and textures. If you can't do it well... it's just like (⊙ _⊙ ). The principle is that the solid color is used as the background color and the color is used as the decorative color. Both The main colors are the same kind of colors (having similar hue and different shades). Give a correct demonstration (blue):

4) Color Packing Paper + Flower / Solid Ribbon
5) Wrapping paper + other ornaments
Choose a simple, yet texture-free wrapping paper as the background color, and decorate the sculpted bouquets or other decorations.